Rancid confirmed for the Mighty Sounds after party!
We are very proud to announce a very special after party gig for this year: the Mighty Sounds 2012 festival farewell gig will be headlined by no other than the punk rock legends Rancid! The band is currently celebrating their 20th anniversary and will perform for the first time in the Czech Republic in history!
This show is going to take place at the Great Hall of the Lucerna Palace on 23 July 2012. Punk rock fans around the globe are all tensed up as Rancid are expected to release their new full length this year. Their previous one, "Let the Dominoes Fall" (2009), was a huge success and the band's highest charting album to date.
Well, why cannot Rancid play at Mighty Sounds? For several years we tried hard to get the band to play the festival, but it has always been a problem since the band has hardly ever toured Europe in the month of July. After Rancid launched the European leg of their tour just a few days after Mighty Sounds this year, it was clear a separate concert at the festival after party in Prague is the best option for all our fans. It's the best after party of the Mighty Sounds festival we could ever have dreamt of!
Although Czech punk rockers have the very unique opportunity to purchase a special combo ticket that comprises entry to both the Mighty Sounds festival 2012 edition and the Rancid concert in Prague for a favourable price, it was not possible to make this offer available for fans in foreign countries. For this reason, separate Rancid concert tickets may be purchased through two Czech ticketing agencies: Ticketportal and Ticketpro. If you, however, live in the Czech Republic and are interested in buying this very special combo ticket, do not hesitate and get in touch with us through fido@hpk.cz.
Rancid Biography:
Rancid is an American punk rock band formed in Berkeley, California in 1991. Founded by 80's punk veterans Tim Armstrong and Matt Freeman, both of whom previously played in the highly influential ska punk band Operation Ivy, Rancid is credited - along with Green Day and The Offspring - for reviving mainstream interest in punk rock in the United States during the mid-1990s. Rancid includes Armstrong on guitar and vocals, Freeman on bass and vocals, Lars Frederiksen on guitar and vocals, and Branden Steineckert on drums.
To date, Rancid has released seven studio albums, one split album, one compilation, two extended plays, and a series of live online-only albums, and has been featured on a number of compilation albums. The band has independently sold over four million records worldwide, making it one of the most successful independent punk groups of all time.
RANCID (USA) + STOMPER 98 (DE) + TOWER BLOCKS (DE)
23 July 2012
Prague, Lucerna Palace, Great Hall
CZK 685,-
tickets available through: Ticketportal, Ticketpro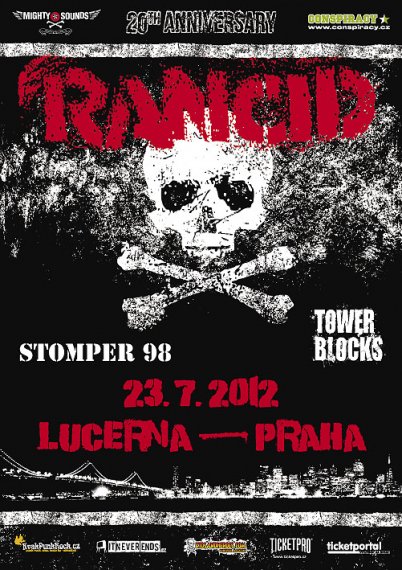 Upcoming events
24.2.2017

007 - Praha

10.4.2017

Futurum - Praha

20.11.2017

Velká Lucerna
Hlavní partner: